Ma Shivani Puri
Narmada Bhavan
Ranga Mahal Ashram
Amar Kantak, M.P. 484886
tel. 94243-02748

Amar Kantak, in the state of Madhya Pradesh, is the Headwaters of the Holy Narmada River (Narmada Ganga).


In October, 2006, I met Shivani Puri and her Guru Sri Mahant Balaraj Puri.
I think it was in 2005 that he suffered a partial stroke; he took his Samadhi in November, 2007 at the age of 100.
| | |
| --- | --- |
| Ranga Mahal Ashram | The body of each Guru is buried in one of these Samadhi Pits |
| | |
| --- | --- |
| | |
| Guru Sri Mahant Balaraj Puri | Guruji's "Family" and friends |
Shivani Puri has been with her Guru since 15 years of age;
her mother, and somewhat mentally impaired sister (Santosi Ma) live at the ashram now,
along with some village and local teenage children whom Shivani Puri supports and serves.
The Pictures below show some of the ancient temples (approx. 1000 yrs old) at front and back of the Ashram property.
At one time, all of that property was part of the ashram; however, now those ancient temples are the property
of India's antiquities and World Heritage Monuments programs.
| | | |
| --- | --- | --- |
| | | |
| | Actual Headwaters of the Narmada Ganga | |
Definitely Amar Kantak is a special piece of "India's Heaven";
and Shivani Puri's Ashram is available for your stay when you do visit.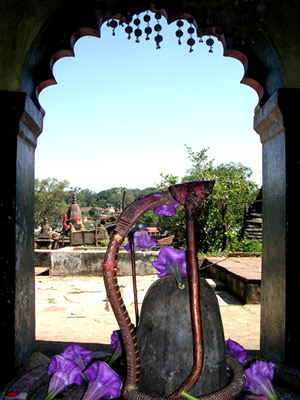 | | | |
| --- | --- | --- |
| Santoshi Ma | Amar Kantak Kids | Radha, Bellpati,Sushma |
Samadhi Hermitage, Madrid, New Mexico, USA

Advaita Ananda Samadhi Ashram - Ellora, Maharastra, INDIA
Would you like to help with Social Work in India?


$10-20/month is NOT a hardship for most of us; yet it can do wonders in 3rd world countries!



For assistance to poor folks in
any
3rd world country, no amount is too small.
Click here … for a visit to "Social Work in India"
Trekking and Touring Himalayas of India
We highly recommend Amit Bajaj for any India travel help you may need;
especially in the Himalayas.

http://www.indiaholidayhome.com
ananda@samadhihermitage.org
(please copy/paste to your email program).

Telephone: (505-473-3560)


A February, 2011 Survey

Return to Top of Page