Would you like to help with Social Work in India?


$10-20/month is NOT a hardship for most of us; yet it can do wonders in 3rd world countries!



For assistance to poor folks in
any
3rd world country, no amount is too small.

For Example:
In India: $20-30/month = private English Language school for one child.
$50/month (Rs3000) = basic necessities for a single-mom family, 3 kids;
$100/month = fairly well, full monthly expenses.
and … at Maher Orphanage, in Pune …
$100/month (Rs6000) will fully support three women or children/month!

This place is truly one of my favorites in all India.
What they do for the children is absolutely awesome!!
They now have 30+ homes in Pune and elsewhere,
and they keep expanding as funds become available.



"Maher means 'Mother's Home' …




A haven of hope, belonging and understanding.




Our mission is to help destitute women, children and men from all over India




to exercise their right to a higher quality of life,


irrespective of gender, caste, creed or religion."


Please check out their website to offer a donation.
Children they adopted off the streets years ago,
are doctors, lawyers, scientists and other professionals today!!
Your help here truly helps alot!!
and, they do have an International Donation Account.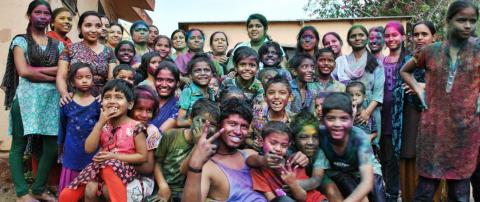 With

Internet Banking

, one can set up fixed monthly donations, as well as random.


Concerning our own families …


In 2015 … Jyoti Mishra, will start her Master's Degree studies in Social Work,
at a University in Pune. At the same time, she will also be engaged with Maher Orphanage.
The following year her brother Sagar will do the same.
This is their own chosen way to pay back the gift of our life-long support to their family; and becomes a first step in the 3 of us becoming a social-working team! Hows that? Totally cool!!

Sita is also maturing and developing herself. Studies in Tailoring, Montessori and Beauty Parlor will enable her to be self-supporting, and with a real life!

So … now, we are experiencing little kids becoming big kids;
they need bigger toys, and bigger education
… and thus an increase in expenses for their support until they can do it on their own.
T
he Master's Degree program for Jyoti & Sagar will cost a significant chunk of money
(School fees, hostel, etc.);
so your donations for this will certainly be very appreciated.

Samadhi Hermitage, Inc.
Bank: U.S. Bank, Acct. #: 155919133449;
ABA Number: 107002312.

or … the "Donate" button below will enable a PayPal donation;

or … a personal check can be sent, and payable, to:

Samadhi Hermitage, Inc.
7 Peaceful Way
Madri, NM 87010

Samadhi Hermitage, Inc. is a 501 (c)(3) non-profit organization since 1995.
All donations are tax-deductible
-- a receipt will be sent to you for your files.
No amount is too small or too large; and all will be very much appreciated.
… And in advance, we thank you Soooo much!